Have you ever thought to yourself why some people can keep plants and herb gardens alive but you can't? We'll you're not alone! SeedSheets was created for people just like you, to help you succeed in growing your own garden! What's even better? You can now get SeedSheets for up to 50% off plus free shipping!
Growing your own herbs is easy – and it's crazy more people don't do it! Most people tend to put dried, flavorless, store-bought herbs in their meals that are filled with pesticides and are genetically modified. And while the convenience is great, it isn't always the best for your health or tastebuds!
Why does everyone put up with subpar herbs? We all know buying fresh herbs from the store is expensive…but growing them yourself can be difficult and end up disastrous. Either nothing grows…or whatever DID grow didn't look appetizing.

But those days are over!
Now you can grow a 100% organic, non-GMO herb garden in your kitchen – full of lush basil, spicy chives, flavorful parsley and more – and all you have to do is add water when your herb garden asks for it.
Yes, that's right – an herb garden that grows itself… AND actually saves you money by using it!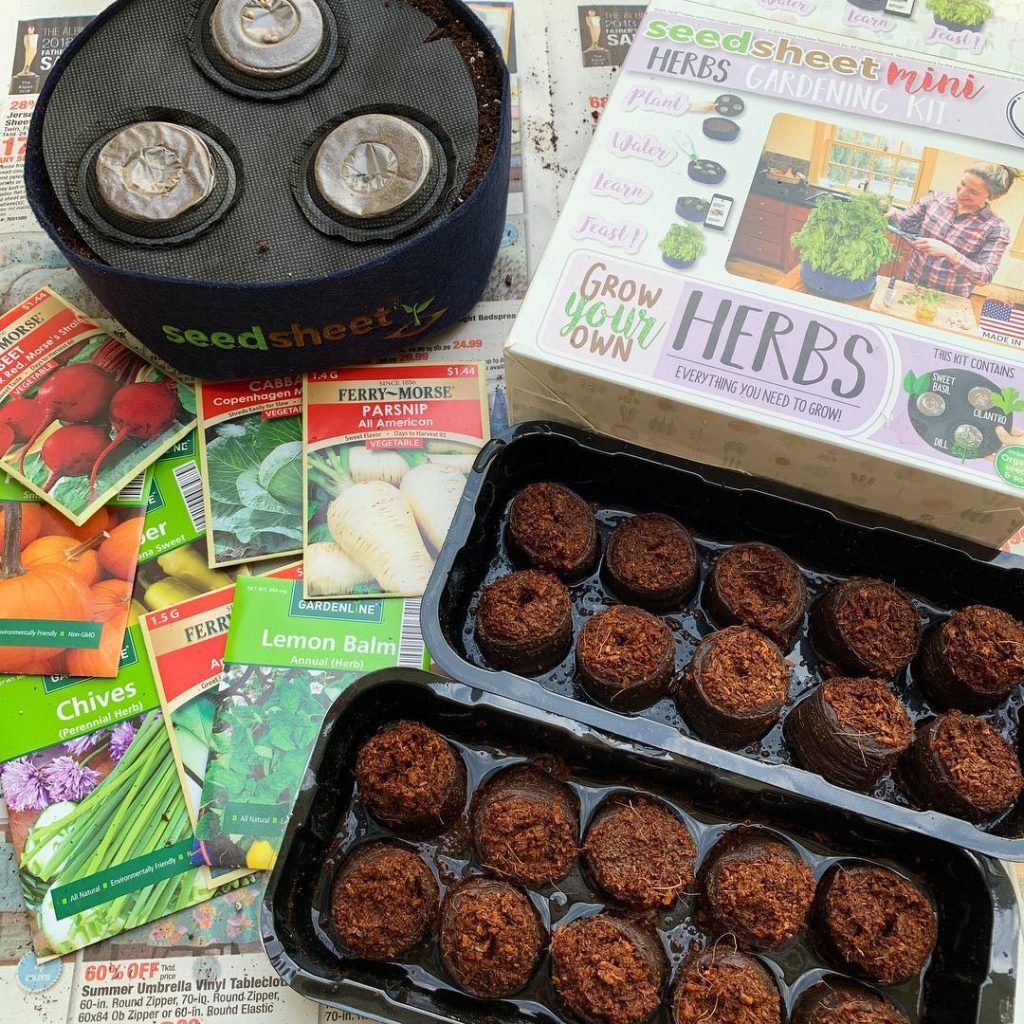 So what is the SeedSheet Herb Garden? The SeedSheet Herb Garden is a small sheet of seed pods that contain organic, non-GMO seeds in dissolvable pouches with weed-blocking fabric. In other words, the SeedSheet Herb Garden is "a thriving herb garden in a box". Thriving is an understatement – each Herb Garden grows $92 worth of produce!

It couldn't be easier to use – all you do is place the SeedSheet in a pot, send a quick text to your SeedSheet, then add water when it tells you to. Yes, you text with your herb garden…talk about it being the year 2020! The SeedSheet Herb Garden includes everything you need to grow 6 delicious, non-GMO herbs: Basil, Cilantro, Parsley, Dill, Onion Greens and Sorrel.
No need to add soil or worry about weeds – just set it and forget it. Your SeedSheet will text you when it needs water, and that's ALL you do. (Really! There's nothing else like it.)
So far they have sold 150,000+ SeedSheet Herb Gardens since it's launch… and the #1 reason people say they love it is because "my garden texts me before I mess everything up – I feel like I can't fail!"
The truth is, growing an herb garden is not rocket science – but if you don't know how to do it, it can be frustrating. It's so easy to forget as well! That's why the texting functionality has been such a garden saver. It's like a personal "gardening advisor" – it won't do the watering for you, but it will take care of everything else!

This is the best part: I designed it for everyone. It's small enough to fit in a college dorm room… the texting function is extremely simple so even non tech savvy gardeners can use it… and it's so easy to maintain that even a child can get perfect results.

The fact that 150,000+ people are happily growing their own SeedSheet Herb Gardens is proof that growing an herb garden isn't difficult – when you have the right materials and the right knowledge. Once you start using your own freshly grown herbs from your SeedSheet Herb Garden, you'll never go back! Get your SeedSheet Herb Garden for up to 50% off plus free shipping while supplies last!